小芥:阿丹梢早開始有尿尿不順利的問題,跑很多次廁所上不出來,要去拜訪醫院了。目前都還是很有精神,愛吃、愛跳。也喝水。
Michico : Adan started has pee problems, he ran to the litterbox and he just can't go. I will bring him to the vet later. Right now he still has great energy, like eating, jumping and drinking water as well.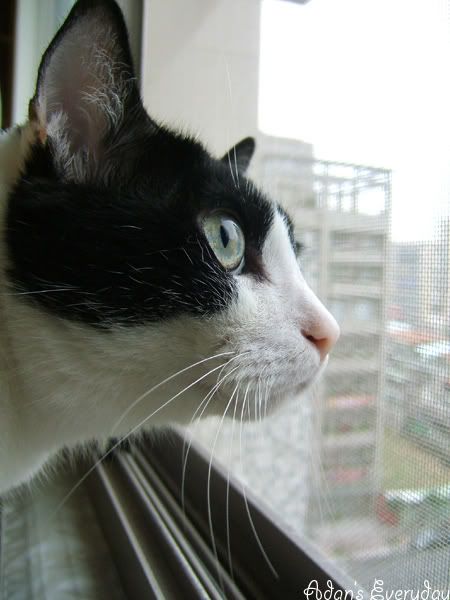 小芥:希望一切都沒事,今天稍晚再來報告。
Michico : Hope everything is okay, I will do the report after seeing the vet.
◎更新

UPDATE

◎
小芥:今天中午12點,先請大姊叫車把讓計程車先停到我家樓下,我衝回家<辦公室距離我家走路五六分鐘>,到家把阿丹塞到籠子裡面就衝到動物醫院去看病。醫院休息時間到12點半,時間寶貴。到了動物醫院簡單的說明病情。阿丹一直跑廁所但是尿不出來,醫師先摸了摸膀胱,請我安心,阿丹的膀胱很小,裡面沒有積尿尿,所以其實他是尿得出來的沒有結石,但是因為阿丹已經接近12歲了,所以怕是有細菌感染因為抵抗力比較低、或者是其他的不明原因,所以要先照一下膀胱的x光。但是因為我現在時間窘迫,請我改天再去幫阿丹做其他腎檢查。

照x光之前,醫師跟我講了很多有心理準備的話,所以把阿丹抱去照x光等待的三分鐘,我真是緊張得快要哭了。結果X光照出來,醫師一直誇獎阿丹是她看過最乖最可愛最漂亮的老貓咪。尿道、乾淨;膀胱、形狀小巧完美、乾淨;有照到左腎、形狀小巧完美,乾淨。還看到,早上大過便了,所以大腸尾端是空的(羞~早上我的確看著阿丹大便)。一切幾乎都沒有問題,他說這種頻尿的狀態是非常初期的都沒有影響到任何器官,說我觀察得很好。要吃藥、也要再多餵水。我心窩暖暖的,阿丹沒事! 怕是也許有輕微的細菌感染,所以吃幾天抗生素的藥多觀察,應該就不會有大問題了!
Michico : Noon, 12 o'clock, I asked Pamilla reserve taxi stop at my apartment, and I ran home , and I back home, I grab Adan into the PTU, and into Taxi rush to the VET. I only have 30 mins rest time. After I went to the vet, I told vet Adan's condition -he goes to the litter box several times but pee only few. The vet warns me many bad result, makes me want to cry. But after the vet detaily touch Adan's belly, she said the size of Adan's bladder is very small and normal and soft, so I don't have to worry too much, he could pee by himself just need few times, and they decide doing X-RAY to Adan's bladder.

Although the vet is a kind lady, but she loves warning me many many bad causes of pee problems including the kidney issues, and many others...etc, so they hold Adan having X-RAY, I stand outside along and I want to cry, because I am a girl who very easily think worse direction.

And the X-RAY comes out, the vet says Adan is the most cute, kind and tenderness old male cat that she has ever seen, and the X-RAY result is perfect, the bladder size is small and perfect, no stones or crystallize inside, the left kidney size is small and perfect, also very clean inside, and the urethra also perfect size and clean inside! And the end of large intestine is clean, means Adan poo-poo good:) Basicly, Adan only need to take few days medicine in order to avoid there is any possibly bacteria infection, but it should be fine. The vet says I am a great cat slave, this is very very very first initial stage, normally the cat owner doesn't notice. I finally have great mood.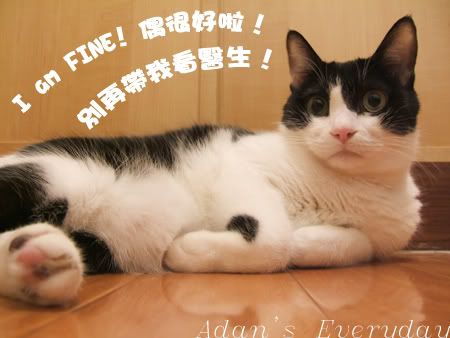 阿丹:很煩ㄋㄟ~ 偶不想看醫生拉!
Adan : Please don't take me to the vet anymore!