樂高:嗨~~各位,今天我要給你們看看我和葛格的一些對照照片喔,左邊是我三個月大正在盯著獵物瞧拉。右邊是我葛格也是十幾年前三個月啦。
Lego : Hello everyone, today I would like to show you some photos of mine and Adan, the left one is my 3 months old detecting the target, the right side is Adan also 3 month old.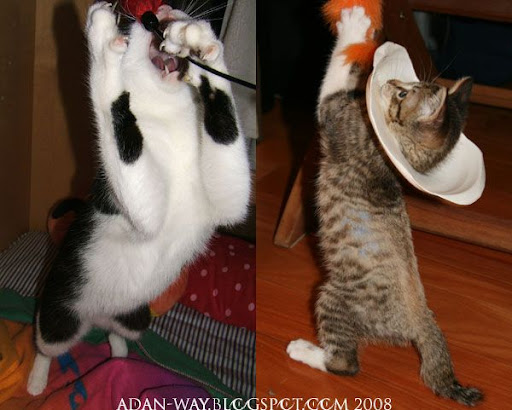 樂高:這張就是我和葛格都站著玩玩具。
Lego : This one is both my brother and I stand playing with the toy!
樂高:這張是我也會看鴿子姐姐囉。
Lego : This is I could also understand the fun of watching pigeon sisters~!
樂高:這張則是和我已經不在的姊姊(阿丹的親生妹妹)一起擺在一起,馬咪說還是我姊姊比較美麗。好吧!因為女生比較美麗吧對吧,我相信我也很可愛。你們說我和馬格麗特姊姊哪一個比較可愛嘛 ? ?
(阿丹:當然是馬格麗特可愛,你臭死了。)
Lego : This one is comparing with Margaret sister , she is no longer here, she is Adan's same birth sister. Michico Mommy says she still think Margaret is cuter than me!!! Not fair!!!! I believe I also very cute, Margaret is a girl, so she might be more beautiful than me, but I believe I am also very cute~!!! Everyone, what do you think?
(Adan : Certainly is Margaret better, you stink!!!)
p.s.今天阿丹竟然跳到樂高的隔離房間裡面,真的是讓我非常生氣 ! 萬一感染黴菌怎麼辦!!! 我慌慌忙忙幫他全身消毒,還拿烘乾機烤他,希望不要感染到黴菌,天啊真是氣死我了。
P.s. Today Adan jumps into Lego's room!! I am so angry, what if He also has fungus while I am in Moscow? I am very very worry and angry. I immediately disinfection his fur and using the heater, Oah...dear.....what have he done? I really hope Pamilla could handle both of them well!