小芥:這篇主要是獻給
後母
姨姨看看,
後母
希望阿丹吃了OPC可以跟之後猛虎出閘的樂高對打,樂高進入家裡一個月以來,阿丹都很鬱悶。不太愛動,昨天阿丹自己拿玩具要我陪他玩,讓我好開心。現在我單手拿單眼單手玩玩具技巧還訓練不足,所以照片還不夠力,我會努力加強。
Michico : This is dedicating to Gina, who gave Adan
PetHealth™ OPC Formula
, Gina hopes after Lego comes out, Adan could win Lego while they boxing to each other, hehehe. After Lego moving into our home, Adan become very quiet, doesn't like move. But last night, he brings his toy to me and ask me to play with him, cheering me up!! Right now my skill of using one hand operate SLR, another hand playing toy is not great enough, but I promise I will improve!
阿丹:後母姨姨,看見我的眼睛嗎?是不是很幼稚?我看孔雀毛的眼睛很口愛吧。
Adan : do you think my eyes big and young? Michico says my eyes in this photo looks like only 1 year old. Hahahaha.....Oah my feather toy is so much fun, makes my eyes are so round and sparkling!
阿丹:玩具玩具你想要去哪裡。
Adan : Where are you going, come down here!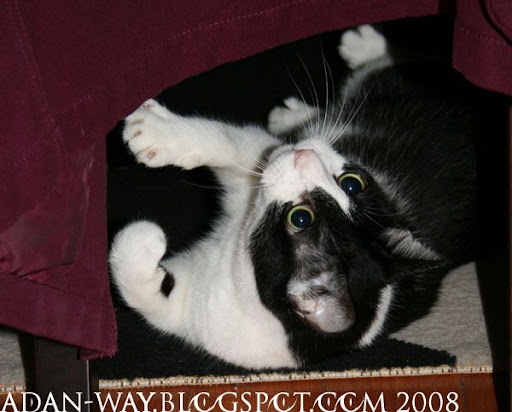 阿丹:躺著玩是抓不到玩具的。
Adan : Lying on the floor can't catch anything.
阿丹:噢,沒抓到。
Adan : Oah...oops, I miss it!
阿丹:我一定要抓到,太久沒練習了。
Adan : I will catch it, I haven't practiced for a long time!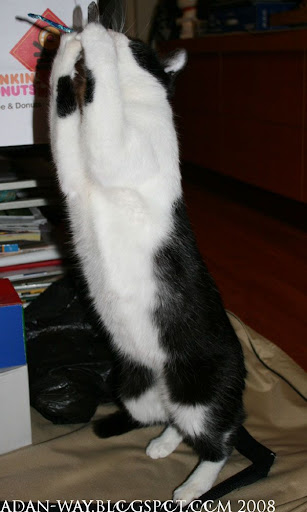 阿丹:挖哈,抓到了吧~!
Adan : Wahhhaaaaa~!! Gotcha!!!!!!!!
小芥:現在我都不將OPC泡水了,阿丹喜歡吃直接灑在飼料上面的OPC,這樣子也很方便,阿丹真是乖孩子讓我這麼輕鬆給他吃補ㄋㄟ。
Michico : Right now I directly sprinkle the formula on his cookies, he like to eat that. Not drink it. I think it is more convenient to me as well, Adan is really a great good boy so understanding, don't let me mix with water, just need to sprinkle on the food will be alright, very sweet!!!