Adan: Some of you ask if I gave Lego formula that Gina gave me? Yes, I did, not to worry:)
樂高:我最喜歡玩球球還有這兩隻老鼠,這個老鼠是阿丹葛格去年跟國外網友交換禮物的禮品,現在所有交換禮物的內容都是我最愛的。想要回味一下去年阿丹葛格拿到交換禮物的樣子可以看這邊。你們可以看見我抱著白老鼠踢踢很開心,應該也可以看見我肚子的黴菌區,已經毛也在長回來了,但是還是要戴頭套。

Lego : Right now I love playing little fur ball and these 2 mice. This mice toy is given by Boy which is switch with Adan for secret paws! If you want to see how Adan like the toy last year you may click here. Now Boy has a tabby little brother Beethoven, and now Adan brother also has a tabby brother - Me~! I think both of our mommy has unspoken consensus, right? You all could see I hug my toy and using bunny kick, and also you could see my tummy fungus area, now the fur are growing back, but still need to wear plate!




樂高:我力氣大嘛?


Lego : Am I Hercules?




樂高:因為我很喜歡大姨姨。所以,我決定花很大的力氣將這兩隻老鼠叼起來獻給大姨姨。




小芥:這個老鼠對樂高來講真的很大,其實他失敗了十幾次,而且會不停的因為盤子擋住而踩到老鼠而失敗,可是最後樂高很聰明會利用盤子的角度把老鼠邊叼邊鏟起來努力往床上提過去。


Lego : Because I love Pamilla very very much, so I decided to use my biggest strength hold this mice by my teeth dedicating mice to Pamilla!
Michico : Actually these mice are very heavy for Lego. He failed at least 10 times, because the plate makes him judge wrong and can't see. And he often step on mice's tail, and the mice will full down again. But in the end, he learn how to use the plate shovel the mice and also bite it and carry it upstairs to the bed!




樂高:哎攸我走太過去了姨姨原來在我後面了。好我在扛回來。


Lego : Oah My~!! I walked to far, Pamilla is behind me now, Ok, I bring mice back!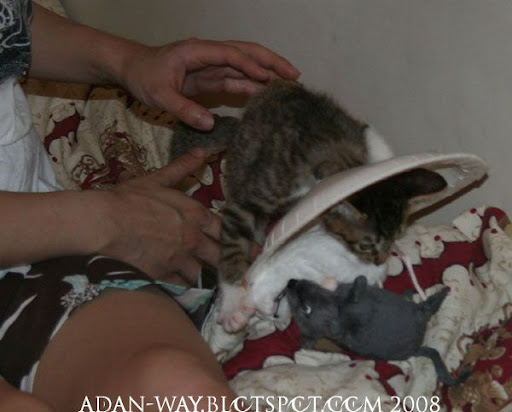 樂高:姨姨,這個老鼠就獻給你了。




大姊:挖塞樂高你好棒喔!!!! 謝謝!!!!!!!


Lego : Pamilla!!! These mice are just for you!!! You are welcome!!!!!!!


Pamilla : Wowwww...Lego..!!! Thank you!!!!!!!! Thank you so so much, you are so great!!!!!!!


◎◎◎◎◎◎◎◎◎◎◎◎◎◎◎然後...and...◎◎◎◎◎◎◎◎◎◎◎◎◎◎




阿丹:姨姨的俄羅斯簽證下來了。唉...看見部落格右上角的倒數嗎?我親愛的大姨姨快要離開我了.....現在我每天都窩在姨姨旁邊窩很緊跟得很緊啊!!!


Adan : Michico's Russia visa is here....Oah My....see my blog the count down at the right top? My darling Michico is going to leave me in very very soon!!!!!! Right now I stick with Michico every single day very very tight and close!!!!